Well, what an exciting start to the season we've had. The sun was shining, the Kano banner was flying high and Celtic Park was rocking as the champions beat St. Johnstone not 1, not 2… but 7-0.
We want to start off by saying a huge THANK YOU  to Wimbledon CSC for their donation of £2,100, Argosy CSC for their donation of £100,  The Lisbon Lions CSC for their donation of £200, all our bucketeers who were seen and heard all across Paradise , shaking their buckets and raising an incredible amount of money to Keep Football Free for kids, and last but not least each and every one of you who donated and showed support.
We all raised, drum roll please…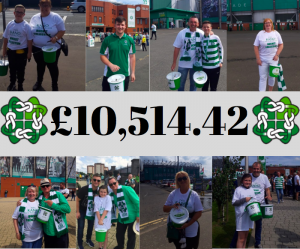 Each and every one of you should be incredibly proud of what we all achieved on Saturday.
Amongst the excitement, it was business as usual in Section 115 as we welcomed Janefield Swifts Bhoys and Ghirls, The Meadows Childrens House, Semab, Barnardos Youth Involvement Project and a few more smiley faces to cheer on the bhoys. For many of them, it was their first game at Celtic Park and what a first memory to have, eh? Who can remember their first game at Paradise? Did the hoops bag 7 goals in the net like they did for these guys?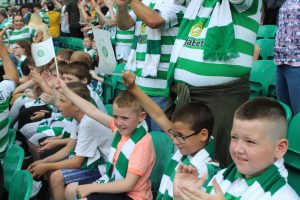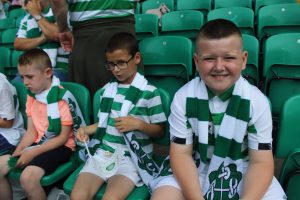 Oh no, the excitement didn't stop there. We also had two famous faces join us for some sunshine and celebrations. River City's bad boy Frank Gallagher and Gary Tank Commander's loveable squaddie Paul J Corrigan enjoyed soaking up some sun and chanting alongside The Kano Kids, thank you bhoys for coming along! You helped create many special memories at Paradise for many young Celtic fans.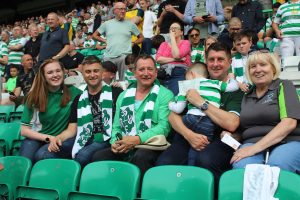 You can read all about our guests in our Evening Times Article below.
https://www.eveningtimes.co.uk/news/17819001.river-city-actors-support-kano-foundation-collection-celtic/
All the excitement got too much for one of our young supporters visiting from Wimbledon. Dreaming about Celtic? We know how you feel pal.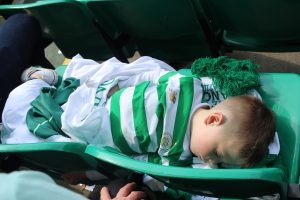 Before we forget, please remember to send in your photos and selfies from Saturday on our Facebook, Twitter and Instagram. We always love to see all your smiley faces : )
Pheww, well what a weekend it's been! We only have …17 more sleeps until our next game against Hearts (But whos counting?)  where we'll be welcoming more kids through the turnstiles.
We'll see you then!