The KANO Foundation strives to offer your group the best experience possible in their visit to the stadium and encourage the kids to enjoy themselves as much as possible. However there are rules that need to be adhered to in order to ensure they can do so in a safe and friendly environment.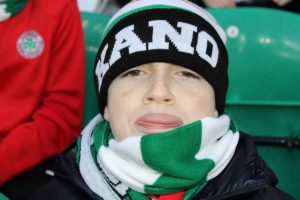 In addition to the statutory stadium regulations, we also stipulate:
Your group must sit only in the seats allocated to them by the foundation.
Your group may be split into several smaller sections to allow for staggered entry to the stadium to avoid congestion.
No one from the group should attempt to move to any other part of the stadium, either before or during the match, especially to sections containing The Green Brigade or the visiting fans.
No member of your group should attempt to enter the pitch area at any time, nor throw any object (no matter how small) in the direction of the pitch.
Cans or bottles are not allowed in the stadium and should not be brought to the game by your group.
Groups should appreciate that we occupy a small section of a larger stand and should be respectful of the people in the seats surrounding us.
Foul and abusive language from any member of your group (adult or child) will NOT be tolerated under any circumstances.
Any member of your group who turns up under the influence of alcohol or any other substances WILL NOT be permitted to enter the stadium
Your group is kept together for 5 minutes at the end of the match to allow the stadium to empty sufficiently to ensure you can exit the stadium safely and together.
We thank you in advance for your cooperation.